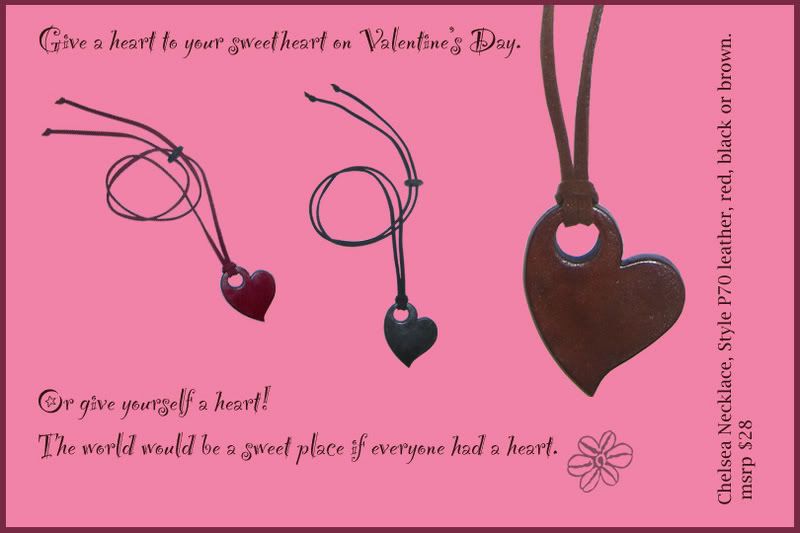 Dear Friends of Betty B.,
I am so inspired about what this new year is going to bring!
I am applying stronger focus on sustainability, eco-
consciousness and as always, ethical manufacturing of my
designs. And it feels good!
To celebrate I am starting with my first promotion of the
year with a discount for all of you to use in my web store.
Use the code "FRIEND" to get 10% off everything on the
Bettybelts website AND the Essential Surf Company website as
well!
I know, I know, Oh Gosh, Valentine's Day is coming up. I know
some of you GUYS out there really wish there was no such thing.
But be as it may, we're stuck with it, so let's make the most
of it, embrace it, even! This tidbit of advice from my fiancé:
Just remember when you're dreading and possibly planning on
fulfilling your obligations for that "special day", that the
payoff at the end of the day can be potentially huge in many
ways.
To help you with this endeavor, I have the super-cool "Chelsea"
heart necklace that is the best no-brainer gift for any girl.
It's ethically handmade in one of our family owned and operated
workshops on the beautiful Island of Bali from leather that is
polished to resemble wood. It's got a warm, loving vibe to it
and people just love it. They love to touch its smooth surface
while wearing it and be reminded of who gave it to them.
Just click on the heart above to start shopping.
If you're not into that, there are a lot of other choices
incuding my superstylish Jeanette necklace, bracelet and
earrings made from recycled glass or any of my glowing mother
of pearl jewelry made from sustainably farmed oyster shells
for those who want to express their love of the ocean. I have
some new styles for men now as well.
See it all at www.bettybelts.com
Thank you all for your support over the years. For spreading
the Aloha.
Peace and Aloha,
Donna
Betty Belts
P.S. Ladies, here is a great gift idea for the
ocean-loving man on your list. 10% of the proceeds
from the sale of this leather and sterling wave necklace
go to one of my favorite charities, Surfaid International.
Click on it to see more.